I got a little excited when I was informed that I would be reviewing the 2015 Four Roses Small Batch Limited Edition. My first introduction to Four Roses was the regular Small Batch which is one of my favorites. Until now I had never tried any of the Small Batch Limited Editions since they are somewhat hard to come by with a price tag higher than your average drinker. For this review I was able to try out the 2014 for comparison, this could be a treat.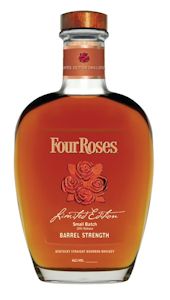 Nose
The 2015 Small Batch Limited Edition has a much sweeter and fruitier aroma than the 2014 edition. The first whiff is strong, but not overpowering. After the air mingles with the bourbon the vanilla becomes more prevalent and there is the slightest smell of aged tobacco. On the other hand the 2014 edition has a stronger, spicier aroma, and the 2015 is smooth and sweet.
Palate
Right off the bat the sweetness hits, followed by the not too powerful heat. The heat is more pronounced in the 2014 Limited Edition. Again, the slight hint of aged tobacco hits. It adds a kind of dry spice to counterbalance the sweetness. The longer it sits, the stronger the vanilla and spices get. Adding a dash of water brings all of the flavors to the forefront. With other bourbons, there is that one taste that stands out. Sometimes that flavor is bitter or spice, but the more it sits the better the flavors complement each other.
Finish
The bitterness on the back of the tongue is not a bad thing since it evens out the sweetness by adding contrast. The final taste is much spicier that the first taste. Whereas, the finish on the 2015 is smooth , the 2014 is a little harsher. Not worse, just a little more bite to it.
Overall
This is one the best bourbons I have had the opportunity to sample. From the sweet fruity aroma to the vanilla and spices of the taste this is a delightful bourbon. With a higher price tag than the average bourbon, this is not an everyday pour. If there is a chance to get a bottle I will surely do that. I also liked the 2014 just not as much. If you want a more spice and less sweet bourbon, find a bottle of the 2014. At around $110 in retail I would definetly snag this without an afterthought. After retail, I would make a play for a bottle of this at the current secondary price of $250-$300. For the 2014 edition, I would grab a bottle around the $160 mark, but not much more.