Football, Halloween, Thanksgiving, color changes, and pumpkin flavored everything are the joys every normal personal comes to anticipate in every Fall season. For the special breed of us out there Fall means just one thing -- bourbon hunting season, okay football and bourbon hunting. Although, it is a new tradition every bourbon obsessed individual is ritualizing, it is becoming more and more popular with the masses. Some do it for the love of bourbon, some for the thrill of the hunt, and some choose to do it for the quick flip in profit. No matter what drives the joy and anxiety you're starting to feel right now just by reading this article, the odds are if you are reading you are just a big a part of this bourbon mania as anyone else out there.
Just thinking about the beautiful bottles that will be released in the coming weeks and months you're already starting to feel the excitement and the anxiety over whether you will get your hands on one. If you're a veteran then you already know the great lengths you'll have to go through for a shot of paying retail for one of these limited releases. If you happen to be a newcomer on the scene then you may not be fully aware of how much time and labor has to go into obtaining a special bottle. I often contemplate whether just paying secondary is more than worth the struggle. It takes a lot of work, perserverance, patience, and frustration to get these rare bottles at retail. More often than not you'll end up coming out empty handed. But, to better help you and to prepare myself mentally for the insanity here is the list of the heavery hitters for the Fall releases currently.
2015 Four Roses Small Batch Limited Edition
This one is sure to be a gem as it is to be the last one assembled by the legendary Jim Rutledge. I can't imagine it living up to the 2013 125th Anniversary standards, but it should be better than the 2014 with some more age into the recipes involved. You should see some small lines here, but if you put forth any effort you should be able to get a bottle.
Buffalo Trace Antique Collection
The William Larue Weller is typically the most coveted bottle in this collection and thankfully this year it will be the second most distributed bottle out of the collection, second to the Thomas H. Handy. The numbers on these bottles roughly appear to be as follows: William Larue Weller 134.6 Proof (7,700), Sazerac 18 90 Proof (4,000), George T. Stagg 138.2 Proof (5,400), Eagle Rare 17 90 Proof (3,400), and Thomas H. Handy 90 Proof (10,800). Although, it will hard to procure one, this is the last year of the tanked Sazerac juice so if you've never had one this is the year to put out the extra effort to get your hands on one. Coming off of last year's success and this year's low numbers the Stagg will be more highly sought after than ever. It has been said that Weller quality tends to be off on odd numbered years, but there's no telling this year and everyone covets that sweet wheater, so even though there are nearly 50% more in circulation from last year it will still be an immensely chased bottle. You can expect a lot of calling and even more work to chase one of these bottles as their popularity steadily increases every year.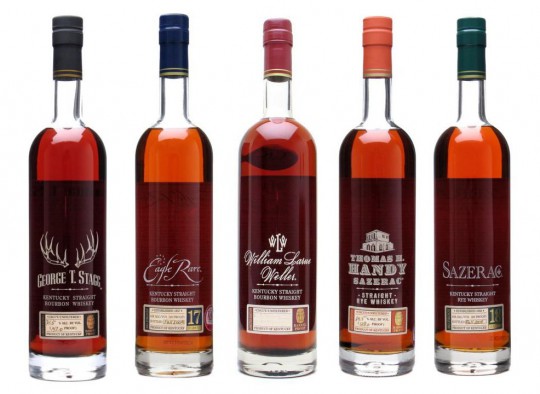 Pappy Van Winkle Collection
Old Rip Van Winkle 10 Year, Van Winkle Reserve 12 Year Lot B, Van Winkle Family Reserve Rye, Pappy Van Winkle 15 Year, Pappy Van Winkle 20 Year, and the Pappy Van Winkle 23 Year. No big changes in this line as I'm pretty sure it has no longer featured Stitzel Weller juice for a few years. But, no matter what, these are the bottles that will require the most effort to obtain. You can expect a lot of ground work to know when it's coming in and you better have started making good with your local liquor store clerks because they're soon to get overly annoyed with the calls asking about it. Once you can pinpoint when it will be distributed you will either have to play the liquor lotteries or camp out early in line to get anything over a 10 year.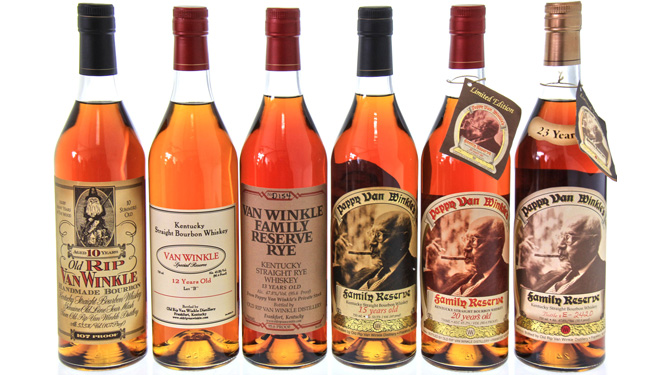 I wish you all the best of luck on your adventures in obtaining any or all of these limited offerings whether it be through retail or the secondary markets.