As some of you may know a year ago Dan and I set out to make a good resource for finding real-time values on bottles from the secondary market. That was the birth of this labor of love we call Bottle Blue Book. We decided to do it because we thought we could bring a superior product than anything out there. It was also another way to immerse ourselves into this crazy hobby of whiskey. We both love this industry and really feel like we are doing a service to everyone involved in this industry.
We try and be a fair resource for both sellers and buyers in the secondary market arena. As stated in a Business Insider article "We don't like to consider ourselves a 'Flipper's Handbook.' Our guide is for collectors who want to know how much it may cost them to acquire a bottle not found on the shelf at their local liquor store. Unfortunately, [flippers] exist, but we do not advocate that people clear the shelves simply to make a profit off of the bottles they just picked up."
Our TTB/Cola email service(recently featured Whiskey Advocate) was the first of its kind and we are very proud of this service we offer for free to all of our users. In less than 6 months these type of innovations allowed us to absorb the only other resource out there.
Speaking of Whiskey Advocate, they also featured us in a full page article called "The Bourbon Gray Market".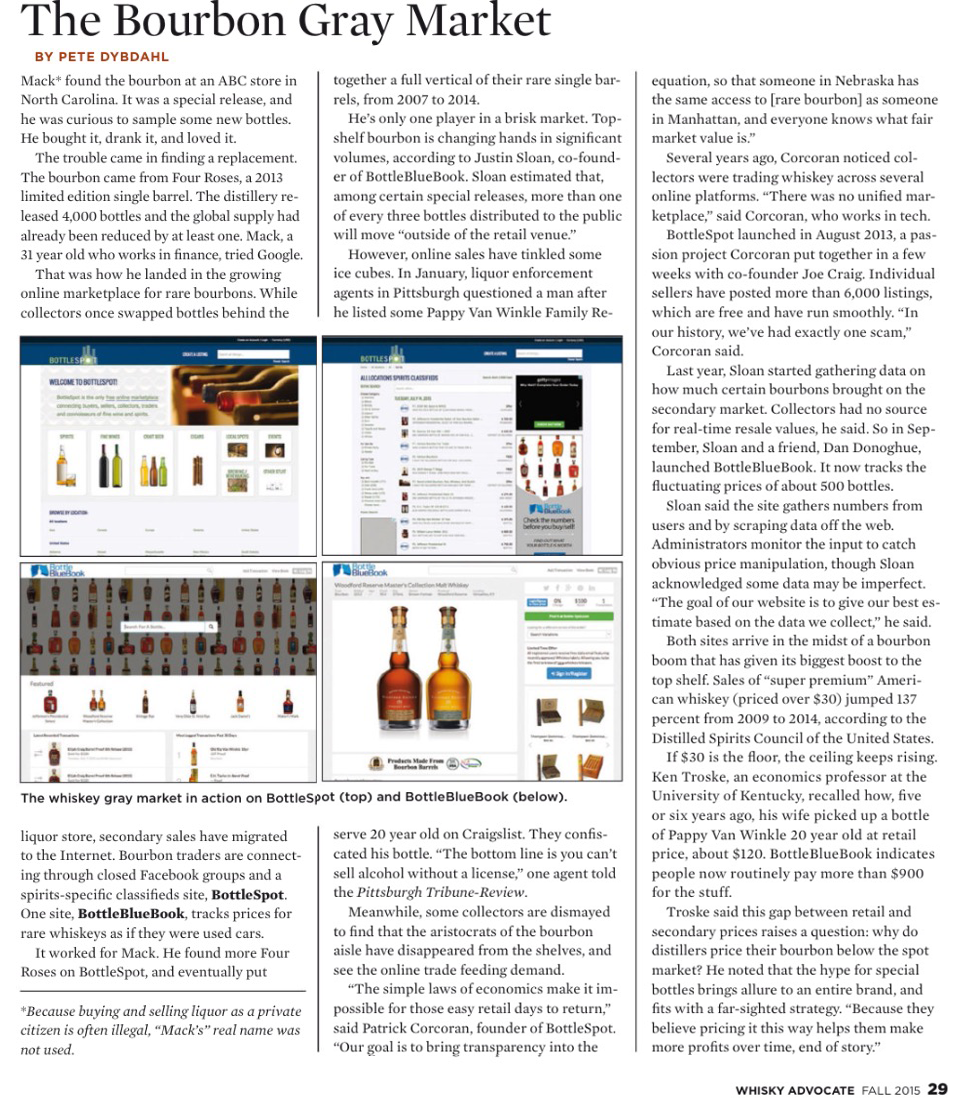 We never imagined this would be the case when we started this project but can't say we are not totally geeked it is getting the response it is getting from so many people we respect in the industry.
This website is a fun project but also a lot of hard work. Countless hours have been put into what sometimes feels like a thankless job. There are some haters (we know you're reading this), but over all we have had great support from our users and the industry. This all would not have been possible without you all.
In short it's been a crazy year and we are really looking forward to the years to come.
Thanks for everything,
Justin Sloan
Co-Founder