Another hard to find bourbon that caused a small degree of exhilaration when it was presented is the 2015 Old Forester Birthday Bourbon. I had high expectations as a fan of Old Forester products, that excitement increased since this bottle in particular is hard to find with only a little over 13,000 bottles being produced.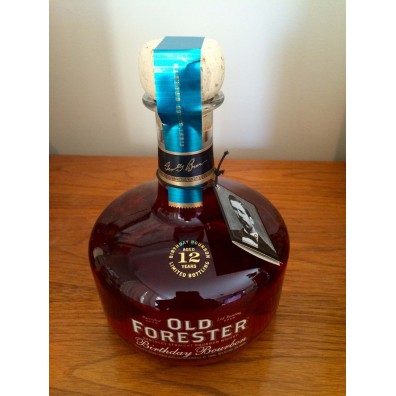 Nose
Leather and burnt oak are the first aspects of Old Forester Birthday Bourbon that I detected. The first few sniffs did not leave me impressed. Continued exposure to the air released the smell of dried tobacco leaves and black pepper. While I like the smell of each of those separately, they did not impress me in this instance. After several more minutes the smells started to mellow a bit.
Palate
Again, my first impression was not the best. There was a smokiness present throughout the tasting. I was expecting a sweetness but that never happened. OFBB did surprise me in that there was plenty of spice, and pepper notes present. On the back end I detected a slight hint of black licorice. Like other Old Forester products, the more the bottle is open, the smoother this bourbon gets. The lack of sweetness will be very appealing to many bourbon drinkers.
Finish
Smoke and leather close out each drink of this bourbon. The finish did not last long. I got hit with the spice, tobacco and a quick burst of heat at the end. I liked how the finish did not last long. No lingering tastes interfering with anything else I ate or drink. This was a very clean finish.
Overall
I was not impressed with the aroma of OFBB. It was not the worst but was not something you smell and just enjoy the smell of it. The palate was not what I expected, but after I let it sit at room temperature it became enjoyable. I was not let down by this particular bourbon, but I was definitely not impressed either. In my opinion there are better bourbons that are just as hard to get and quite a few that are much easier to get that taste much better.