This is one of those chase bourbons that most people will never get a chance to try at non-secondary market prices. I wondered if this bourbon would stand up to the hype. It stood up and then some. From the first sniff to the finish, this was a really good bourbon.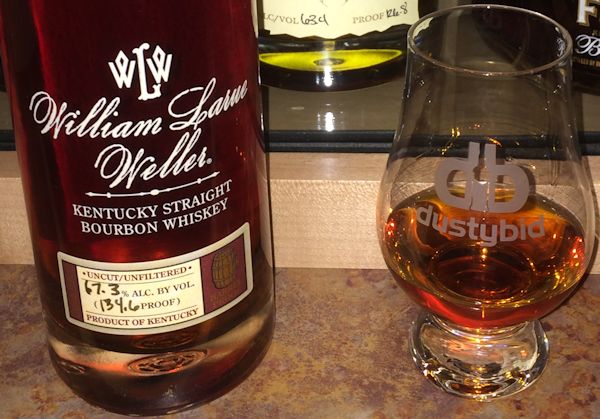 Nose
With the first sniff I get heat which is quickly replaced by a slight fruitiness. Nothing over powering but still unmistakable. After the initial fruitiness, a strong toffee smell becomes noticeable. The spice is the final scent I noticed. It reminded me of opening my grandfather's pipe tobacco for the first time, just not as intense.
Palate
Drinking William LaRue Weller straight is no easy task due to the proof. Even with the heat, there is a definite smoothness to the William Larue. Other high proof bourbons are just pure heat but not this Weller. The smoothness evens out the heat. Add a little bit of water (which I strongly suggest) and the toffee, and spices come to the forefront. I suggest swirling it a little around in your mouth. You might make some funny faces but you can really taste all the flavors at their peaks.
Finish
The finish of William LaRue Weller is probably the best of any bourbon I've tried. It does not have the ending bitterness that is common with many other bourbons. The spices dissipate evenly.
Overall
To say I really enjoyed the 2015 version of William LaRue Weller would be an understatement. I am not really involved in the secondary market, but this selection would make me think about it. Although, there is one caveat and that is to really get everything out of William Larue Weller you should add at least a small amount of water. I now understand the waiting in lines and the lottery picks. Come next October I will be waiting in line as well.